Hello :)
Here is Zauma.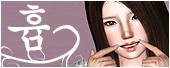 Thanks all for following me on tumblr!
'll make two set of eyes, here is the first, hope u like guys!
In the game doesn't look so bright. You know, this ps is edited with PS x)
In the game, whitout ps looks like this:
Is different picture but no edit lol.
http://www.mediafire.com/?xyb4js82sw27adb
Tomorrow I'll upload the set nº3 :)
Enjoy!